So you've read the articles, ETFs are getting saturated and you crave even more investment diversity. You want stability and a healthy return. Lets look at three investing alternatives. (Yes I am aware that #1 is available in ETF form. Shut up)
1 – Real Estate Investment Trusts (REITS)

 – riskiness: low
What is it?
A REIT is an entity that owns multiple investment properties and rents them for profit. About 90% of the income is passed directly to the investors, who own shares in the REIT just like any other company. To qualify as a REIT the company must have 75% of their assets tied up in real estate and pass 90% of their income onto the shareholders through a dividend.
Why would I want it?
High returns, real estate market exposure, and liquidity. A REIT is the easiest way to sort of own real estate. Their prices are tied to the housing market and not the stock market. Beyond that the dividend can range from 4% up to 10% with monthly payments. Steady income here we come!
Whats that? you don't have $4 million to buy a commercial property? Well you can invest in a commercial REIT to get exposure to that market! Furthermore it can take months to actually purchase a rental property and fill it with tenants, but you could log into your brokerage account and buy shares in a REIT right now.
How do I buy into it?
Public REITs trade just like stocks. Log into your brokerage and buy shares.
What else should I know?
TAXES – this is a big one. Income from a REIT property is taxed when the income arrives at the shareholders instead of the company. What this means is your REIT dividend is taxed at your MARGINAL TAX RATE. You seriously need to keep this in mind because suddenly your 10% dividend is more of a 6.5% dividend after tax. But maybe you are thinking what I'm thinking… "What if I put this in a TFSA or RRSP?" Damn straight, it's tax free! Use this to your advantage. Fill your tax havens with high-tax high-return investments like REITs to keep the high-return but negate the high-tax.
HOUSING MARKETS – Perhaps you've heard about the Canadian housing bubble. You may not own any real estate yourself but if you own REITs you will be affected by real estate prices; if this bubble pops your REITs are going to take a huge dump. Maybe this will never happen, maybe it will happen tomorrow, no one knows, but it's something to be aware of.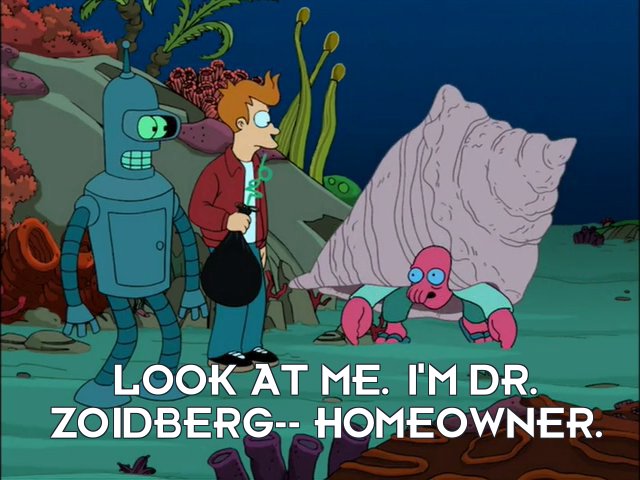 2 – Peer to Peer lending

– riskiness: medium
What is it?
You get to be the bank and loan money to a business! Lending Loop will let you can put up as little as $25 and you'll be paid back with interest the duration of the contract. You take on the risk that they might not pay it back, but you collect interest based on the likelihood of that happening.
Why would I want it?
INTEREST. These loans range from 5% to 20%. As of this typing the highest yield is 18.4%, where else can you get an 18% yield? Nowhere, that's where. Not even here, because you'll still need to pay tax and Lending Loop will also take a cut. But after-tax yields of 10% are still very possible.
How do I buy into it?
Through their website. Similar to a brokerage you'll need to sign up and fund your account before you can start issuing loans.
What else should I know?
TAXES – Much like REITs your interest income will be taxed at your marginal tax rate. Your 18% return will be closer to 10% after income tax and Lending Loop's fees. To make matters worse, you can't shelter these investments in a TFSA or RRSP (at least not yet).
RISK – Like anything, don't put all your money into one loan, especially not one with a D rating, there's a real chance you could lose your entire investment.
3 – Equity Crowdfunding

 – riskiness: high
What is it?
New startup companies need funding and they're willing to give up partial ownership to get it. They've tried going to banks or accredited investors successfully or unsuccessfully, either way they want more money and this is where you come in. For a small investment you can gain equity in a new business. The principle is similar to Kickstarter but instead of getting the first version of their product you get to own part of the company. If peer to peer lending is an alternative bond, equity crowdfunding is an alternative stock.
Why would I want it?
Maybe you'll get lucky and the company will get huge! Had this been around decades ago you could've been one of the first owners of Google, or Amazon, or Chipotle or whatever and you'd be doing snow angels in cash! Investing in the next Uber through crowdfunding is unlikely but not impossible.
How do I buy into it?
Sign up through one of the crowdfunding websites (like Front Fundr) and fund your account to start investing.
What else should I know?
Unlike buying ETFs or what have you, your investment will be locked up for who knows how long. It may be years before you see any gains whatsoever and the company may fail long before you get any appreciable gain. Buyer beware!
Spam your friends: